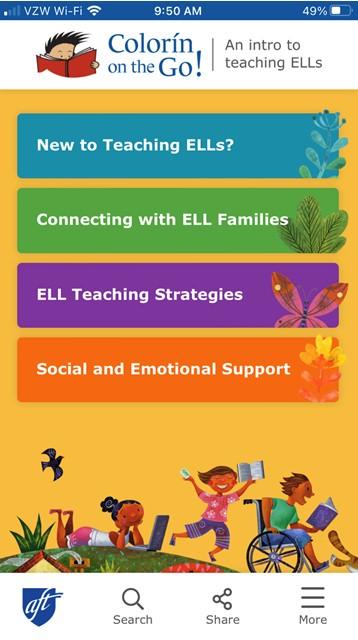 Colorín on the Go is a new, free service from Colorín Colorado for educators who are working with English language learners (ELLs)!
It offers nearly 100 practical, shareable strategies featuring our most popular content across topics such as:
ideas for new teachers of ELLs
ELL instruction
family engagement
social and emotional support
---
Video: Introducing Colorín on the Go!
Introducing Colorín on the Go!
---
How can I use Colorín on the Go?
Professional development
Look for ideas! Take a look through the strategies to find great ideas, resources and videos to support your ELL instruction.
Look for resources to share! Share strategies with colleagues from your device or collect ideas you can use in collaboration and training.
Family outreach
---
Spread the word
You can tell others about Colorín on the Go with our:
---
What are users saying?
"So easy to access and user-friendly!"
"I love how it is laid out and how easy it is to browse on a device."
"This new tool is very easy to navigate and filled with beautiful graphic displays.  What a wonderful accomplishment."
---
Acknowledgements
Colorín on the Go is a partnership project between Colorín Colorado, which is based at PBS station WETA in Washington, DC, and the American Federation of Teachers. Illustrations are used with permission from Rafael López.